Jobs
How to Apply for CBN MSMEDF Loan 2023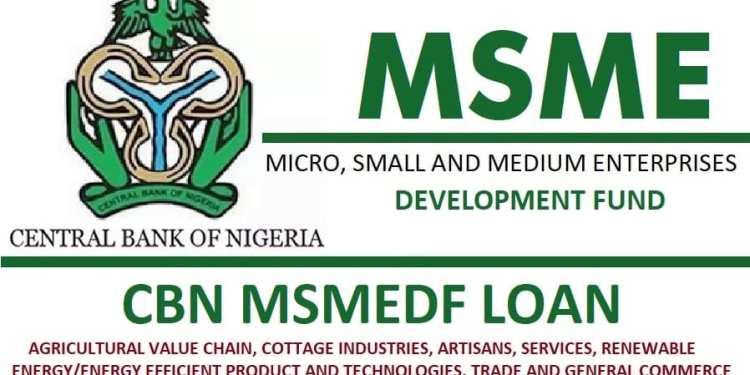 How to Apply for CBN MSMEDF Loan 2023
How to Apply for CBN MSMEDF Loan 2023 – The Central Bank of Nigeria (CBN) has launched Micro Small and Medium Enterprises Development Fund (MSMEDF) aimed at promoting a healthy financial system and businesses in Nigeria. In this post, you will learn how to access CBN MSMEDF loan, and the necessary requirements.
MSMEDF loans was developed by CBN after noticing large financing constraint which hinders the Micro, Small and Medium Enterprises (MSMEs).
Objective of MSMEDF Loan
To channel low return funds to the MSME sub-sector of the Nigerian economy via Participating Financial Institutions (PFIs).

Increase output and productivity for both micro and small enterprises.

Create more jobs and reduce the increasing rate of unemployment in Nigeria.
Requirements for MSMEDF loan
To access Micro, Small and Medium Enterprises Development Fund (MSMEDF) loan, applicants must meet the following requirements:
1. Applicants must have valley d means of identification.
2. Bank Verification Number (BVN) and bank account.
3. Active Phone number and email address.
4. Applicants must have business under any of the following categories;
Agricultural value chain

Services

Trade and general commerce

Artisans

Cottage Industries

Renewable energy/energy efficient product

Technologies

Others
Collateral for the loan
Any of the following educational documents can serve as collateral;
SSCE or NABTEB

National Diploma (ND)

National Certificate of Education (NCE)

Higher National Diploma (HND)

University degree (NYSC Certificate where applicable) and a guarantor.
How to Access CBN MSMEDF Loan.
1. Apply through any nominated PFIs (Participating Financial Institutions) for financing.
2. PFIs shall assess the value or quality of the applications for economic and financial viability.
3. The PFIs is to forward the applications through the State SPV to the CBN in the prescribed format.
4. CBN shall undertake a pre-disbursement assessment of financing requests presented to it by the SPVs on behalf of the nominated PFIs.
5. CBN shall approve and disburse funds directly to the PFIs' correspondent bank accounts.
Note: MSMEDF loan financing repayment shall be annually.
Other hot loan opportunities for you
CBN/GTBank CIFI loan

₦75 billion NYIF Loan

FarmerMoni Loan

NHF Loan from Federal Mortgage Bank of Nigeria

Federal Government TraderMoni Loan

Npower GEEP Loan

CBN AGSMEIS Loan
Hope you find this post useful? Kindly help us to share this post across social media.